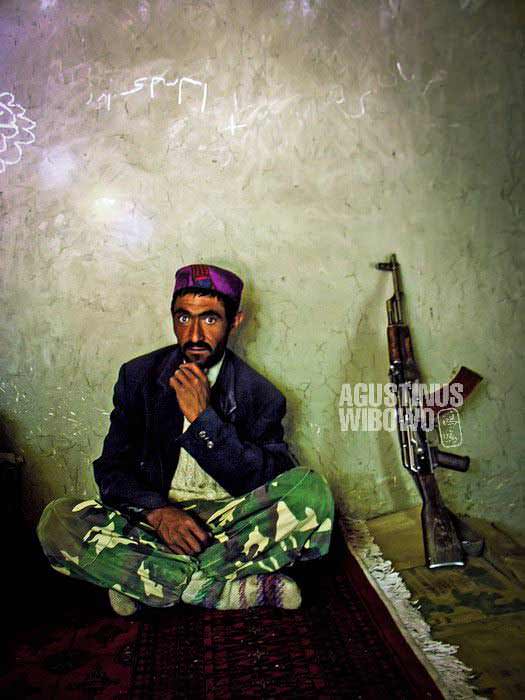 A local Wakhan man sits next to a Kalashnikov gun. The Wakhan Corridor is a sensitive border area between Afghanistan and Tajikistan, which are separated only by the river of Amu Darya with many villages scattered along the villages.
Sparsely populated and well hidden from the rest of the world, Wakhan Corridor is as medieval today as it was over 700 years ago when Marco Polo passed through. The awkward tongue of Afghanistan, located at the northeastern tip of the country, is a 200-mile-long valley that stretches between Tajikistan and Pakistan. A strategic territory created by the once-reigning British Empire at the end of the 19th century, Wakhan Corridor was first attached to Afghan territory as a buffer zone between Britain and Russia.
Though the battle for supremacy between the two giants has long ended, little seems to have changed since then. Time has been suspended for what seems like eternity. The corridor's isolation from the rest of the world makes Afghan's narrow passage – only 10 miles wide – at once mysterious and enchanting. With the snow-capped mountains surrounding the region, it's easy for outsiders to forget the once-vital passageway between the Eastern and Western parts of Central Asia. It took me more than five days to reach Ishkashim, the tip of Wakhan Corridor, by public transportation from Kabul. Wobbly and narrow wooden bridges hang over fierce river streams; the steep mountain slopes are probably one of the reasons why the Taliban never bothered to control the area.
Related blog posts:
Selimut Debu 68: Agama Kita Adalah Kemanusiaan
Back to Photography Album.
Back to Time Stands Still in the Wakhan Corridor     Album
All photography materials in agustinuswibowo.com are copyrights of Agustinus Wibowo, unless specially specified. Any unauthorized use or distribution of these copyrighted works is illegal. Agustinus can be contacted here.
[zoomfolio settings_mode="masonry" skin="skin-default" settings_specialgrid="none" settings_posttype="post" settings_lightboxlibrary="zoombox" design_item_width="" design_thumbw="" fullscreen="off" sort_order="ASC" settings_disablecats="on" disable_itemmeta="off" settings_preloadall="off" design_categories_style="normal" design_pageContent_pos="top" settings_specialgrid_chooser_enabled="off" design_categories_pos="top" settings_biggalleryall="off" orderby="date" settings_ajax="on" settings_ajax_loadmoremethod="scroll" posts_per_page="50″ settings_hide_category_all="off" settings_uselinksforcategories="off" settings_uselinksforcategories_enablehistoryapi="off" cats="2485″ bgcolor="transparent" settings_mode_masonry_layout="masonry" design_total_height_full="off" settings_mode_masonry_layout_straightacross_setitemsoncenter="off" design_preloader_bottom="off"]