DETIK: Agustinus Wibowo Hadir di Beijing International Book Fair 2016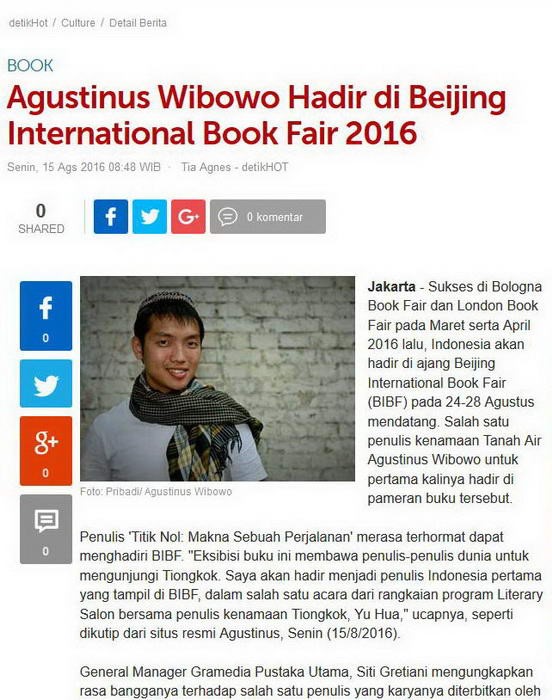 Jakarta – Sukses di Bologna Book Fair dan London Book Fair pada Maret serta April 2016 lalu, Indonesia akan hadir di ajang Beijing International Book Fair (BIBF) pada 24-28 Agustus mendatang. Salah satu penulis kenamaan Tanah Air Agustinus Wibowo untuk pertama kalinya hadir di pameran buku tersebut.
Penulis 'Titik Nol: Makna Sebuah Perjalanan' merasa terhormat dapat menghadiri BIBF. "Eksibisi buku ini membawa penulis-penulis dunia untuk mengunjungi Tiongkok. Saya akan hadir menjadi penulis Indonesia pertama yang tampil di BIBF, dalam salah satu acara dari rangkaian program Literary Salon bersama penulis kenamaan Tiongkok, Yu Hua," ucapnya, seperti dikutip dari situs resmi Agustinus, Senin (15/8/2016).
General Manager Gramedia Pustaka Utama, Siti Gretiani mengungkapkan rasa bangganya terhadap salah satu penulis yang karyanya diterbitkan oleh Gramedia. "Ini panggung yang tepat bagi Agustinus Wibowo untuk mewakili Indonesia, karena selain fasih berbicara dalam bahasa Mandarin, Agustinus bisa memperkenalkan literatur Indonesia ke pasar Tiongkok," katanya kepada detikHOT, belum lama ini.
Karya-karya Yu Hua juga diterjemahkan oleh Agustinus ke dalam bahasa Indonesia serta diterbitkan Gramedia. "Sehingga ajang ini juga bisa menjadi semacam pertukaran budaya lewat literatur," tambah Greti lagi.
Di ajang BIBF, Indonesia akan menampilkan 200 judul buku pilihan dan memberikan wawasan tentang industri penerbitan di Indonesia. Agustinus yang didampingi penulis terkenal Yu Hua dalam acara 'ZERO: When The Journey'. Takes You Home disponsori BIBF bekerja sama dengan Paper Republic pada Rabu, 24 Agustus, pada pukul 13.00-15.00 bertempat di Writers' Stage, BIBF Venue.
Dalam acara Introduction to the Asean Market yang digelar di EAST HALL 2, Rabu 24 Agustus, jam 14.00-15.00 waktu setempat. Program di stand Indonesia ditutup dengan acara HAPPY HOUR yang akan dilangsungkan pada Jumat, 26 Agustus pada pukul 16.00. Program ini mengundang pengunjung pameran untuk melepas penat sambil menikmati stand Indonesia sekaligus sajian penganan khasnya.
Usai sukses sebagai Tamu Kehormatan Frankfurt Book Fair (FBF) 2015, Komite Buku Nasional akan fokus terhadap promosi literasi Indonesia di panggung internasional, lewat penerjemahan karya, pameran buku, festival, serta program residensi penulis.
(tia/doc)