The Weekend West Magazine (Australia): Ground Zero Book Review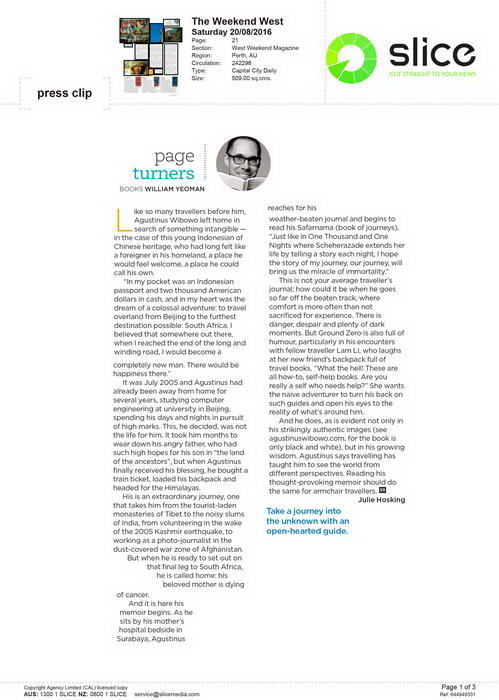 Page turners
WILLIAM YEOMAN
Like so many travellers before him, Agustinus Wibowo left home in search of something intangible —in the case of this young Indonesian of Chinese heritage, who had long felt like a foreigner in his homeland, a place he
would feel welcome, a place he could call his own.
"In my pocket was an Indonesian passport and two thousand American dollars in cash, and in my heart was the dream of a colossal adventure: to travel overland from Beijing to the furthest destination possible: South Africa. I believed that somewhere out there, when I reached the end of the long and winding road, I would become a completely new man. There would be happiness there."
It was July 2005 and Agustinus had already been away from home for several years, studying computer engineering at university in Beijing, spending his days and nights in pursuit of high marks. This, he decided, was not the life for him. It took him months to wear down his angry father, who had such high hopes for his son in "the land of the ancestors", but when Agustinus finally received his blessing, he bought a train ticket, loaded his backpack and headed for the Himalayas.
His is an extraordinary journey, one that takes him from the tourist-laden monasteries of Tibet to the noisy slums of India, from volunteering in the wake of the 2005 Kashmir earthquake, to working as a photo-journalist in the dust-covered war zone of Afghanistan. But when he is ready to set out on that final leg to South Africa, he is called home: his beloved mother is dying of cancer.
And it is here his memoir begins. As he sits by his mother's hospital bedside in Surabaya, Agustinus reaches for his weather-beaten journal and begins to read his Safarnama (book of journeys).
"Just like in One Thousand and One Nights where Scheherazade extends her life by telling a story each night, I hope the story of my journey, our journey, will bring us the miracle of immortality."
This is not your average traveller's journal; how could it be when he goes so far off the beaten track, where comfort is more often than not sacrificed for experience. There is danger, despair and plenty of dark moments. But Ground Zero is also full of humour, particularly in his encounters with fellow traveller Lam Li, who laughs at her new friend's backpack full of travel books. "What the hell! These are all how-to, self-help books. Are you really a self who needs help?" She wants the naive adventurer to turn his back on such guides and open his eyes to the reality of what's around him.
And he does, as is evident not only in his strikingly authentic images (see agustinuswibowo.com, for the book is only black and white), but in his growing wisdom. Agustinus says travelling has taught him to see the world from different perspectives. Reading his thought-provoking memoir should do the same for armchair travellers.
Julie Hosking
Take a journey into the unknown with an open-hearted guide.
Agustinus is a guest of the Kimberley Writers Festival, Kununurra, September 2-4, proximitywa.org.