On Journey and Reconciliation–A Panel with Yu Hua in Beijing International Book Fair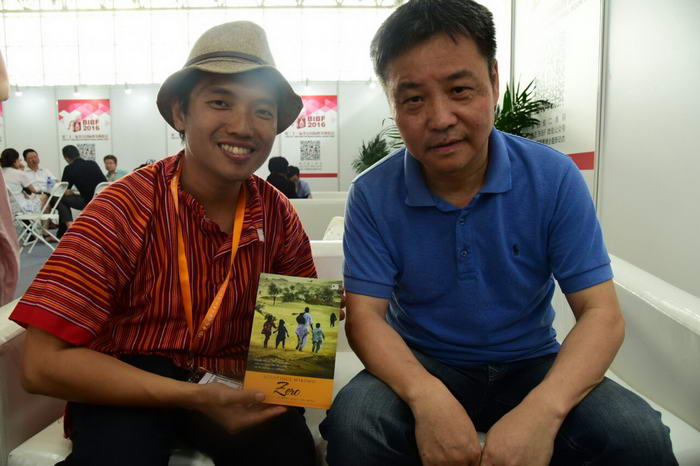 Back in 2011, when the first time I read any of Yu Hua's work, I would never imagine that one day I would share the same chair with this great man. Yesterday, in Beijing International Book Fair (BIBF)'s Literary Salon, we sit together in front hundreds of audience, discussing about my book, Zero: When the Journey Takes You Home. We shared ideas about the meaning of journey, conflict of identities, search for meaning, and reconciliation.
Yu Hua started with a story, quoting a 1001-night story about a boy from Baghdad, who went all the way to Cairo to find a treasure, but then went home to Baghdad to find the real treasure. He mentioned that the boy's journey is not unlike my journey–that journey is about going out and returning home.
We also shared much about Chinese and Indonesian identity. Raised in 1965, when many Chinese-Indonesians were forced to leave and had to return to China because of racial discrimination, he used to hear bad news about Indonesia. The image of Indonesia among Chinese people reach its worst position after the 1998 riots in Jakarta, and it has never fully recovered, until today. In fact, among so many visas in his passport, only one visa that he already got but never used: Indonesia. He had to cancel his trip to Java because there was bomb blasts in Bali.

I shared in this panel about how Indonesia is dealing with its dark history. Yu Hua commented that there are two ways to reconcile: by forgetting it or by facing it. By doing the first, people forget about the past, and tragedies will keep repeating. By doing the latter, problems will still arise, but eventually it will go to a better direction. As Indonesia is now building courage to face its past in a more honest way, Yu Hua believes that Indonesia today is different from Indonesia he used to know. He now really looks forward an opportunity to visit and to experience Indonesia.
The Indonesian Ambassador to China mentioned that Yu Hua is the "most complete" Chinese man he knew, because Yu Hua has experienced all important phases of China, and observed the journey of China in critical eyes. In my perspective, Yu Hua has passed a complete journey, that at the end he has arrived to a reconciliation.
Achieving reconciliation–making peace with yourself–is an enlightenment of a journey. Eventually, all journeys will bring you to a homecoming phase: your true self.