[Kimberley Echo]: Region tantalises travel writer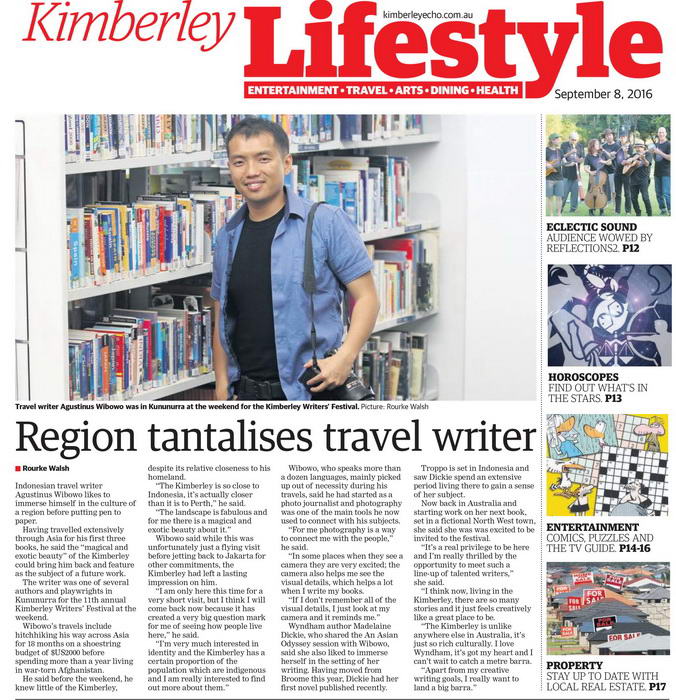 An article in a local Kimberley newspaper on the fabulous Kimberley Writers Festival, Kununurra, Australia, 2-4 September 2016
Rourke Walsh
Indonesian travel writer Agustinus Wibowo likes to immerse himself in the culture of a region before putting pen to paper.
Having travelled extensively through Asia for his first three books, he said the "magical and exotic beauty" of the Kimberley could bring him back and feature as the subject of a future work.
The writer was one of several authors and playwrights in Kununurra for the 11th annual Kimberley Writers' Festival at the weekend.
Wibowo's travels include hitchhiking his way across Asia for 18 months on a shoestring budget of $US2000 before spending more than a year living in war-torn Afghanistan.
He said before the weekend, he knew little of the Kimberley, despite its relative closeness to his homeland.
"The Kimberley is so close to Indonesia, it's actually closer than it is to Perth," he said.
"The landscape is fabulous and for me there is a magical and exotic beauty about it."
Wibowo said while this was unfortunately just a flying visit before jetting back to Jakarta for other commitments, the Kimberley had left a lasting impression on him.
"I am only here this time for a very short visit, but I think I will come back now because it has created a very big question mark for me of seeing how people live here," he said.
"I'm very much interested in identity and the Kimberley has a certain proportion of the population which are indigenous and I am really interested to find out more about them."
Wibowo, who speaks more than a dozen languages, mainly picked up out of necessity during his travels, said he had started as a photo journalist and photography was one of the main tools he now used to connect with his subjects.
"For me photography is a way to connect me with the people," he said.
"In some places when they see a camera they are very excited; the camera also helps me see the visual details, which helps a lot when I write my books.
"If I don't remember all of the visual details, I just look at my camera and it reminds me."
Wyndham author Madelaine Dickie, who shared the An Asian Odyssey session with Wibowo, said she also liked to immerse herself in the setting of her writing. Having moved from Broome this year, Dickie had her first novel published recently.
Troppo is set in Indonesia and saw Dickie spend an extensive period living there to gain a sense of her subject.
Now back in Australia and starting work on her next book, set in a fictional North West town, she said she was excited to be invited to the festival.
"It's a real privilege to be here and I'm really thrilled by the opportunity to meet such a line-up of talented writers," she said.
"I think now, living in the Kimberley, there are so many stories and it just feels creatively like a great place to be.
"The Kimberley is unlike anywhere else in Australia, it's just so rich culturally. I love Wyndham, it's got my heart and I can't wait to catch a metre barra.
"Apart from my creative writing goals, I really want to land a big barra."