Globe Asia (2007): Solo Travel – Wealth of Experience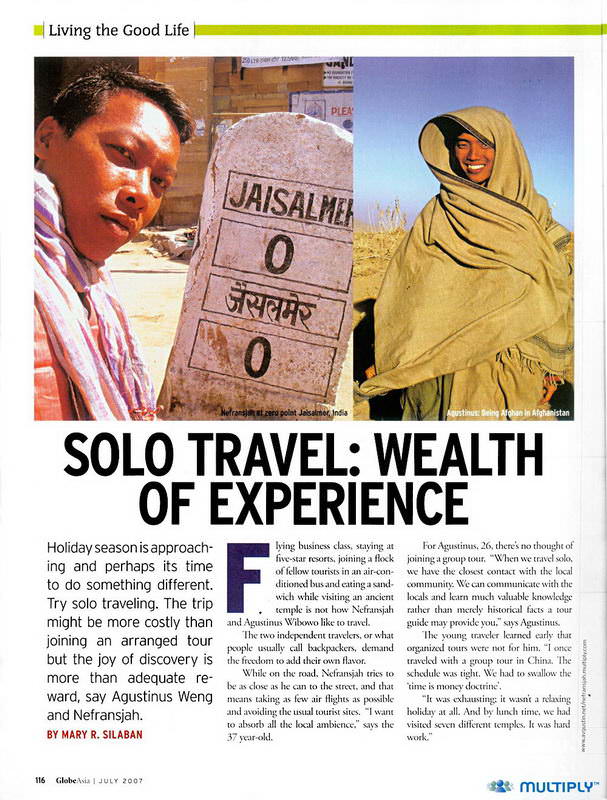 SOLO TRAVEL: WEALTH OF EXPERIENCE
Holiday season is approaching and perhaps it's time to do something different. Try solo traveling. The trip might be more costly than joining an arranged tour but the joy of discovery is more than adequate reward, say Agustinus Weng and Nefransjah.
BY MARY R. SILABAN
Flying business class, staying at five-star resorts, joining a flock of fellow tourists in an air-conditioned bus and eating a sandwich while visiting an ancient temple is not how Nefransjah and Agustinus Wibowo like to travel.
The two independent travelers, or what people usually call backpackers, demand the freedom to add their own flavor.
While on the road, Nefransjah tries to be as close as he can to the street, and that means taking as few air flights as possible and avoiding the usual tourist sites. "1 want to absorb all the local ambience,' says the 37 year-old.
For Agustinus, 26, there's no thought of joining a group tour. "When we travel solo, we have the closest contact with the local community. We can communicate with the locals and learn much valuable knowledge rather than merely historical facts a tour guide may provide you, says Agustinus.
The young traveler learned early that organized tours were not for him. "I once traveled with a group tour in China. The schedule was tight. We had to swallow the 'time is money doctrine'.
"It was exhausting; it wasn't a relaxing holiday at all. And by lunch time, we had visited seven different temples. It was hard work."
The travel guide then look the group to a number of souvenir shops. "We spent the whole afternoon at these shops, as she expected to receive tips from the shopkeepers if any of us purchased the goods at inflated prices. So, we were rushed through the temples and then given all the time we could ever have wanted just for shopping".
GLOBETROTTER
Agustinus Wibowo, from Lumajang in East Java, is now in the second year of his round-the-world journey. At the moment, he is living in a city most people would never dream of even visiting: Kabul, the blast-ridden capital of Afghanistan.
Agustinus could be said to have stopped traveling, since he has been working for the past two months as a senior photographer for the Pajhwok News Agency. Earlier, he had freelanced in the strife-town country.
But his job is merely a means to finance further travel, Each month, he puts money in the bank for the next part of his journey.
Before arriving in Kabul, Agustinus, who holds a degree in computer engineering from Beijing's Tsinghua University, traveled through a remarkable range of countries: China, Nepal, India, Pakistan, Iran, Tajikistan, Kyrgyzstan, Kazakhstan, Uzbekistan and Turkmenistan.
He began his round-the-world journey in July 2005, boarding a train that took him from Beijing to the mountainous area of Urumchi, on his way to Tibet.
Jakarta-based Nefransjah also prefers unusual modes of travel. He sets off for two or three months each one or two years.
The graduate of the Bandung Institute of Technology and holder of a management degree from the Management School LPPM runs his own graphic design studio and has no permanent staff.
I would feel bad it I had to leave my employees on their own while 1 am traveling for three months," laughs Nefransjah.
For the sake of traveling, Nefransjah left his previous (permanent) job as advisor to the board of directors at TransTV. He walked out of the office to start a journey he describes as hardcore backpacking. I le spent a month in Indonesia's own Flores and then took off to spend two months in China.
He met Agustinus in September 2005 in the middle of a road in Kathmandu, the exotic capital of Nepal, surrounded by a crush of motorcycles, rickshaws, trucks, donkeys and people.
So far, Nefransjah has visited Malaysia, Thailand. Laos, Cambodia, China, India and Nepal. This year, he is planning to add Turkey to his list.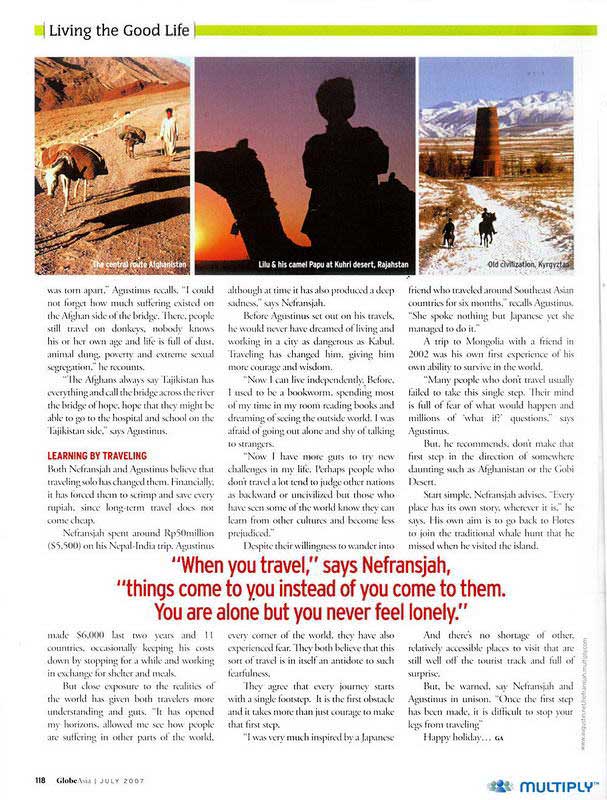 MEMORABLE EXPERIENCES
When you travel, says Nefransjah, "things come to you instead of you come to them. You are alone but you never feel lonely."
Unexpected events provide surprise and excitement as the traveler seeks out tracks rarely trodden by strangers, witness little-known festivals and cultures, absorbing the remarkable diversity of the world.
"I had always wanted to see a Tibetan yak with its shaggy hair but the first one I met was in form of dried meat, and the next in the form of steak," says Nefransjah.
"When 1 finally saw a herd of big live yak, I jumped up and down like a kid," he laughs.
On another excision, he had to walk across a hanging bridge hundreds of meters above a gorge at Yak Kharka, 4,000 meters above sea level near Mount Annapurna in Nepal. "I felt like Indiana Jones," says Nefransjah proudly.
I have been to many festivals, ones that are never mentioned in the guide books but are well worth attending" he says.
"To me, the feeling of total freedom is incomparable. I had never planned to go to Annapurna but Agustinus told me that I had to go there. So there I was, wandering in the mountains for 10 days without ever planning to do so. I am grateful to Agustinus for his advice. I will never regret going there," says Nefransjah.
Agustinus adds that independent budget travel also forces people not to just see the world from behind a window but to be involved deeply in the societies they visit.
Sometimes the involvement gets too deep. Agustinus recalls many emotional moments in his journeys.
I le worked as a volunteer in Kashmir after the 7.6 Richter scale earthquake in 2005 that killed more than 74,000 people, discovering that the local people, despite their sufferings, were still generous and gracious.
"I felt that the village where I stayed for 45 days in a volunteer tent was my second home. I couldn't forget the smiles of the old men and the tears of the village ladies when I left their village.
"The days in Kashmir taught me many lessons, especially to believe that a better tomorrow is always provided for those who struggle," says Agustinus.
In Pakistan, he chanced to be in time for the Ashura festival, celebrated by Shia Muslims to remember the suffering of Imam Hossain in in the war of Qarbala.
The 40-day blood-soaked festival features huge parades in the streets, with men and young boys whipping themselves with sharp knives tied to the end of leather strips as they demonstrate their faith in their religion.
One heart-rending place was "the bridge of hope that links Goz Khan in the Wakhan Corridor of Afghanistan and Langar village in Tajikistan. The two villages are separated by only the 20-meter-wide Panj River but could be on different planets.
The Soviet-era Underline has separated the Ismaili communities of the area since half a century ago. The Afghans look across the river to Tajikistan with their hearts tilled with longing.
"When I arrived in Tajikistan, my heart was torn apart, Agustinus recalls. I could not forget how much suffering existed on the Afghan side of the bridge. There, people still travel on donkeys, nobody knows his or her own age and life is full of dust, animal dung, poverty and extreme sexual segregation." he recounts.
"The Afghans always say Tajikistan has everything and call the bridge across the river the bridge of hope, hope that they might be able to go to the hospital and school on the Tajikistan side," says Agustinus.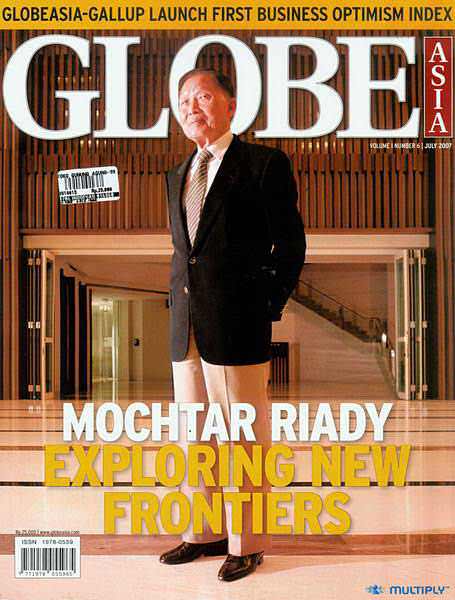 LEARNING BY TRAVELING
Both Nefransjah and Agustinus believe that traveling solo has changed them. Financialy, it has forced them to scrimp and save every rupiah, since long-term travel does not come cheap.
Nefransjah spent around Rp50million ($5,500) on his Nepal-India trip. Agustinus made $6,000 last two years and 11 countries, occasionally keeping his costs down by stopping for a while and working in exchange for shelter and meals.
But close exposure to the realities of the world has given both travelers more understanding and guts. "It has opened my horizons, allowed me see how people are suffering in other parts of the world, although at time it has also produced a deep sadness," says Nefransjah.
Before Agustinus set out on his travels, he would never have dreamed of living and working in a city as dangerous as Kabul. Traveling has changed him, giving him more courage and wisdom.
"Now I can live independently. Before, I used to be a bookworm, spending most of my time in mv room reading books and dreaming of seeing the outside world. I was afraid of going out alone and shy of talking to strangers.
"Now I have more guts to try new challenges in my life. Perhaps people who don't travel a lot tend to judge other nations as backward or uncivilized but those who have seen some of the world know they can learn from other cultures and become less prejudiced."
Despite their willingness to wander into every corner of the world, they have also experienced fear. 'I hey both believe that this sort of travel is in itself an antidote to such fearfulness.
They agree that every journey starts with a single footstep. It is the first obstacle and it takes more than just courage to make that first step.
"I was very much inspired by a Japanese friend who traveled around Southeast Asian countries for six months, recalls Agustinus. "She spoke nothing but Japanese yet she managed to do it."
A trip to Mongolia with a friend in 2002 was his own first experience of his own ability to survive in the world.
"Many people who don't travel usually failed to take this single step. I heir mind is full of fear of what would happen and millions of 'what if' questions." says Agustinus.
But, he recommends, don't make that first step in the direction of somewhere daunting such as Afghanistan or the Gobi Desert.
Start simple, Nefransjah advises. 1 very place has its own story, wherever it is." he says. His own aim is to go back to Flores to join the traditional whale hunt that he missed when he visited the island.
And there's no shortage of other, relatively accessible places to visit that are still well off the tourist track and full of surprise.
But, be warned, say Nefransjah and Agustinus in unison. "Once the first step has been made, it is difficult to stop your legs from traveling"
Happy holiday…