New Delhi – Culture Shock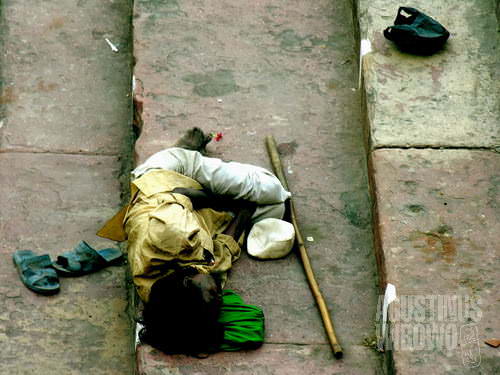 October 17, 2005
Welcome Inn Guesthouse, 100 Rs
Just arrived today in Delhi, and wanna share how shocked I am by the scene here. It seems that no matter how many countries I have been travelling, I am still a complete beginner in India.
I. Scheme 1: Rickshaw wallah (rickshaw driver trick 1)
Place: Near India Gate
Time : October 17, 2005 afternoon
I was trying to go to Indonesian embassy in Chakyanapuri embassy area, by walking. Many rickshaw drivers passed and asked me where to go. I just ignored them, until once I missed my direction. The driver, with a Sikh turban, offered 40 rupees to go. And he insisted that the embassy was soooo far. I said 20 rupees only that I can pay. He tried to bargain from 30, 25, until he agreed at 20. OK, I was seated in the rickshaw. He knew I spoke Hindi. So he said in Hindi, that he needed commision from a shop, so he would bring me to a shop, I just need to look around without buying anything for about 10 minutes. I told him that i was not agree, I was indeed rushing to the embassy as it is about the closing time (now is Ramadan fasting month and Indonesian embassy closes earlier).
Anyway, somehow he just insisted and keep talking in Hindi while I didnt completely understand, and he drove his autorickshaw anyway. So it looks alright for me. And from what I catched he even said I didnt need to pay him money.
So, in 10 minutes, I arrived in a souvenir shop. I entered, look around, everything is just so expensive. Not for my pocket, for sure. And I dont have any intention to buy. I got out after 5 minutes.
It seems that he didnt get any commission. He blamed me to speak Hindi as Hindi speaker tourists are not "valuable" for the shop owner, so he didnt get commision.
OK, enuff said, bring me to the embassy! 20 rupees I will pay you. I was indeed almost losing temper with this talkative and oriented driver.
Then after driving around 3 minutes, he asked me to get off, asked me to wait 1 minute (you know 1 minute means in India…), and ran away. Of course, he didnt come back. And I have to walk from the middle of nowhere (near Sadarjang airport) to my embassy, even further distance than my original position, after wasting around 20 minutes….. (and I got diarrhea…, very difficult to walk…) OMG.
II.Scheme 2: Rickshaw wallah story part 2
Place : Connaught place
Time : October 18, 2005 afternoon
I was in rush going to KG Marg to go to Nikon service centre to get my camera repaired(another sobby story, read another post). It is not far from here to the road, and I was just looking at my map when this auto rickshaw driver asked me where to go. He offered 20 Rs to take me by rickshaw, which I think too expensive for such distance.
Rickshaw (R): OK sir, 10
Me (A) : OK 10
And I got in to the rickshaw.
This gentleman has not started his rickshaw.
R: So tell me, which airline or company are you going
A: Just take me to Mercantile building
R: American library?
A: No, Mercantile building
R: Accha, so American library
A: No! Mercantile!
R: OK. No problem. American library
A: Whatever. Can you start now?
R: So tell me, where are you going after?
A: Hey listen, I am running out of time. So you go or not?
R: You need to go to restaurant? or hotel? want to buy something? where to go?
A(aaaargh): Can you PLEASE start? I wont go anywhere after!
R: OK, Sir 20 rupees.
A: No, you said 10
R: By the way, are you Japanese? Korean? Chinese
I was not in the mood of country guessing game, and really fed up, I jumped from the rickshaw and ran away. Really time wasting.
III.Scheme 3: Asking Direction
Place : Connaught place
Time : October 18, 2005 afternoon
I was going to KG Marg and again, losing direction in the circular Connaught Place.
Me (A): Can you please tell me the way to go to KG Marg? (in Hindi)
B : Which hotel or airlines?
A : No, just tell me how to get there
B : Which hotel? airlines?
A : I just need to know how to get there
B : Listen, KG Marg is 4 km long
A : No worry, HOW TO GET THERE?
And after that he gave me the dirrection.
IV. Scheme 4 : Free Internet
Place : Main Bazaar
When you walk around the bazaar, you will see many banners advertising cheap internet, 5 Rs, 10 Rs, and even free. But this price is only for the first 5 minutes you log in. The normal fare is 15 Rs/hour, and almost all internet cafes charged the same. The low price and unquoted is just to draw attention. Another example is the cheap 6.50 Rs/minute telephone calling to China, but when it comes to the bill, the rate will be 15 Rs/minute, after added by several service charges….. (much more expensive than the regular 10 Rs/minute)
V. Scheme 5 : Toilet on the walls
Place : All over Delhi
Everywhere you can see, from children to old man, from morning till evening, people pissing on the wall. No wonder why the smell is so strong when you walk on pedestrian road in Delhi. And mind your foot anyway.
To protect the wall, some house owners put pictures of the Gods and Goddesses on the walls. This kind of wall doesnt smell at all.
This list probably will get longer.
And just quote from a friend who visited India before: "Prepare your heart and dont behave with Indonesian heart when you are in India". And you do need one or two days to "acclimatize" in Delhi.