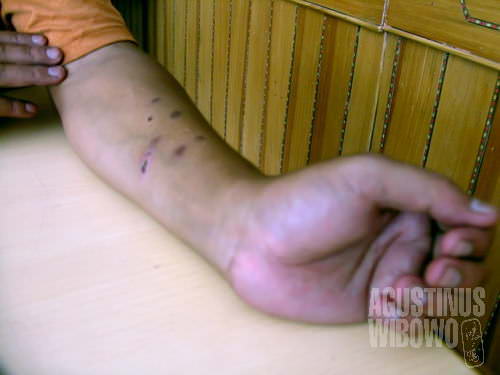 August 30, 2005
Kathmandu Tourist Bungallow 200 NRs
Today I decided to repair my cameras, despite of the unavailability of Nikon Service Center. The recommended service is an authorized Canon service in New Road. On my way from Thamel to New Road, I passed several small alleys, and suddenly I heard someone greets me, "Tashidele". I saw an unknown face, but this man insisted that he saw me somewhere in Lhasa (in Jokhang temple, even I am sure I have never entered that temple). He then greeted me by touching my forehead with his forehead, Tibetan way.
Then, like an old friend, he told me all of his stories, that he is going to Dharmasala, that he is a monk there and how Dalai Lama will protect me. OK, as he is so friendly, I decided to spend some time before going to repair my camera. I offered a tea.
He chose a very luxurious restaurant (good, good….), and then while waiting for the tea, he gave me a necklace that he claimed was from Dalai Lama and has accompanied him for 20 yrs. (I cant believe that someone could give such a precious item to anyone he just met on road). OK, I accepted. Then he told the stories that he was caught by the Chinese and put in jail for 20 yrs, being tortured, and all of his family were killed. He almost cried when telling me the story. And as what all of you guess, he asked for my donation.
He can be telling truth, and i am not unwilling to help, but I am also in problem now. Cameras broken, the f*cking expensive Indian visa for Indonesian nationals, bla bla bla. And furthermore, I never know this man and giving 20 bucks to him is really out of my budget. So I politely refused him. My trick is pretending to be more poorer, telling him all of my problems with cameras and Indian visa, and pretending to cry also (almost) …. And guess what, after finishing the tea, he just left me as we never known before.
OK, maybe I am mean. But really, me, myself, also in troubles….