Kathmandu – Women's Festival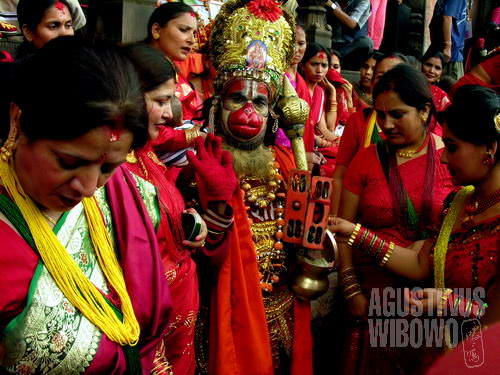 September 6, 2005
Thamel Guesthouse 100 NRs
Today is Women's Festival (Teej Festival) celebrated whole over Nepal. The center of celebration is the Shiva Temple of Pasupatinath in Kathmandu. I decided to go there early at 6 am, with a Chinese friend whom I met in Tibetan border. We got lost somewhere, then we decided to take taxi instead (70 Rs with a little bit bargaining in Hindi).
To enter the temple complex area, foreigners have to pay ticket, 250 NRs. We were stopped by the ticket officer, forcing us to pay without any discount. Little bit too expensive for our pockets. We said we wanted to consider again whether to enter or not. But after some few minutes when we decided to pay, there was nobody in the ticket booth, so we entered without paying ticket (again). And apparently there is no other ticket checking inside, and it's actually easy to enter without ticket as the area is surrounded by local neighbourhood.
The festival actually started far early in the morning, 3 am, when the women already went in queue to the main temple to pray. Almost all of them wear very beautiful red coloured sari, makes the queue like a long red snake over the hills. They have to queue for hours this day. And all women should do fasting, no food but drinks are allowed. During the hot day, there were many people got fainted.
The celebrations were more colourful with the dances and singings of the women. Everybody danced on the streets, and even the holy monkey of Hanuman (in Nepal it is red, while in Indonesia it is white) also joined the party. Traditional music filled out the atmosphere, and it would hypnotize you to dance also, for hours and hours.
There are many sadhus (holy men) in Pasupatinath. These people have left the material world to be closer to God. We were lucky to see some sadhus smoking marijuana in their "dormitory", as marijuana is supposed to make people closer to nirvana (illegal in the country, only restricted to sadhus). The "dormitory" itself is a simple hut complex with some cow houses (yes, they do sleep with the cows).
The queen came to visit the Pasupatinath temple around 6 o'clock (scheduled at 5:30 pm). The security got very strict at 5 when all of the crowds were regulated by the military, police, and scout boys. All of the dancings around the temple were stopped, and everybody stood still to wait for the royal vehicles to come. After a long waiting, the royal cars arrived, the queen was in one among it (could be seen thru the car's window), did prayers in the temple for about 10 minutes (unseenable by commoners), and then left.
Police : "Where are you from?"
Me : "Indonesia"
Police (to my Chinese friend): " And you?"
She : "China"
Police (immediately) : "Accha, it's very good country"
Silent for some seconds, ….., ….., ….,
All silent.
And still silent.
Again, now even the grass in the field is not dare to move.
….
Police (after a minute) : " Oh yes, Indonesia is also a good country!"