The Jakarta Post (2010): A thrill ride to Afghanistan
http://www.thejakartapost.com/news/2010/06/27/a-thrill-ride-afghanistan.html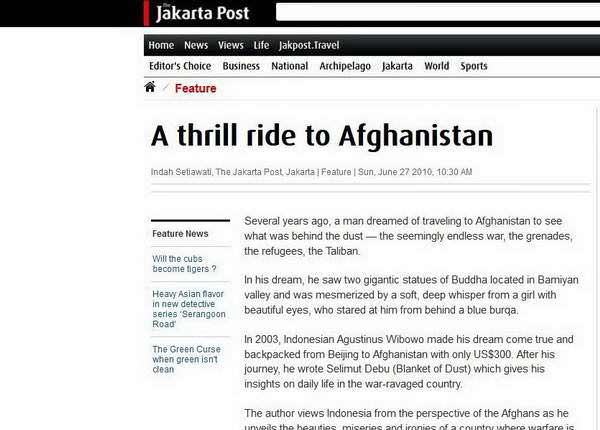 A thrill ride to Afghanistan
Indah Setiawati, The Jakarta Post, Jakarta | Feature | Sun, June 27 2010, 10:30 AM
Several years ago, a man dreamed of traveling to Afghanistan to see what was behind the dust — the seemingly endless war, the grenades, the refugees, the Taliban.
In his dream, he saw two gigantic statues of Buddha located in Bamiyan valley and was mesmerized by a soft, deep whisper from a girl with beautiful eyes, who stared at him from behind a blue burqa.
In 2003, Indonesian Agustinus Wibowo made his dream come true and backpacked from Beijing to Afghanistan with only US$300. After his journey, he wrote Selimut Debu (Blanket of Dust) which gives his insights on daily life in the war-ravaged country.
The author views Indonesia from the perspective of the Afghans as he unveils the beauties, miseries and ironies of a country where warfare is reported daily on televisions and in the newspapers.
His description on cultural and ethnic diversity in Afghanistan as well as some branches within Islam somehow reminds us of the same situation back home. He also mentions about humanity being ignored by people who busily introduce religious absolutism.
Agustinus, who can pass for a member of Afghanistan's Hazara ethnic group, traveled to Iran and observed first-hand how Iranians feel superior to the Afghans who strive to earn a living in
the neighboring country.
The relationship between Iranians and Afghans, he notes, parallels the Indonesian-Malaysian relationship.
He describes the hard life of the Afghans in Iran, and also underlines their bravery, dignity and determination. He shows both the hard and soft sides of the Pasthun people — Afghanistan's majority ethnic group. Despite their bravery and roughness, the Pasthun people respect their guests, is fond of flowers and love watching Indian television dramas.
The book follows Agustinus as he journeys in Afghanistan, through rivers, deserts and mountains, and on trains, buses, trucks and even tractors.
He went to find the Buddha statues in Bamiyan valley during his first visit in 2003, but found only ruins.
The site was destroyed by the Taliban in 2001. He stood there solemnly; amidst wrecked tanks and abandoned Kalashnikov rifles with a British acquaintance who was blissfully unaware of the danger of landmines.
A Japanese traveler inspired him to explore other areas of Afghanistan, such as Wakhan, which he describes as "a remote long and narrow strip in the northwest of Afghanistan", in between Tajikistan, China and Pakistan.
Agustinus kept alive his dream to visit the magnificent places the Japanese man spoke of.
In 2006, he returned to Afghanistan. His second trip is full of historical, cultural and linguistic information will make you laugh, annoyed, angry, worried, astonished and amazed.
In Kandahar, a dangerous place with frequent suicide bombings, he visited crowded bazaars in the downtown area. In Kabul, Agustinus ventures to an orthopedic hospital where he meets people handicapped by war.
Agustinus also criticized the inefficiencies of local organizations that manage international aid and donations, and details the stark contrast between poverty and luxury in Kabul.
The art of eating local food and drinking salty milk tea is explored.  Agustinus writes of staying overnight at a small tea stall, known locally as samovars, as well as doing the regular excretion nearby.
Traveling to Afghanistan was not an easy adventure. Several times, Agustinus was worried that he would fall prey to sexual predators. Once, two men in a cheap motel offered him money to for sex. One man was already at the ready, a scene that led Agustinus to run away.
Agustinus lost his money in Bamiyan when he and some other people were staying his friend's office. At another time, he was beaten by a police when walking near the site of a suicide bombing.
Agustinus speaks several languages, including Urdu, English and Chinese, and was able to mingle with local people, learned the necessary knowledge to survive and became wiser throughout
the journey.
The book also features his pictures, such as an opium plantation in Badakhshan, the stunning Baba mountain in Wakhan and the beautiful 12th century Minaret of Jam in Ghor province, a graceful tower that survived the Taliban.
This book deserves to be translated into English. Selimut Debu makes readers eager to read another book that hopefully will take us deeper into Central Asian, to places such as Tajikistan, Kirgistan, Kazakhstan, Uzbekistan and Turkmenistan.
Selimut Debu
Agustinus Wibowo
Gramedia Pustaka Utama, Januari 2010
480 pages