#1Pic1Day: A Kazakh Muslim Wedding (Mongolia, 2009)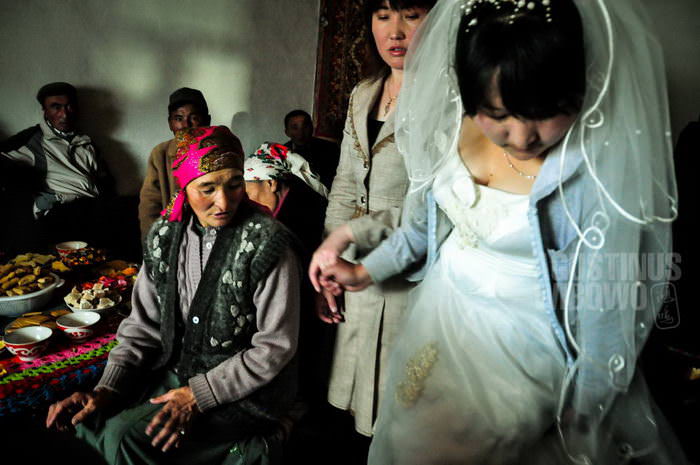 Muslim Wedding (Mongolia, 2009)
A Muslim Kazakh bride in westernmost corner of Mongolia is preparing for nikah, legalization of marriage held by Muslim religious leader. The Kazakhs are predominantly Muslim minority groups inhabiting western Mongolia, especially in the province of Bayan Olgii. Most of the wedding ceremonies here are held in Western (Russian) way, as it comes simpler and cheaper. In Kazakh wedding in Mongolia, vodka is always present. The father of this bride even held a cup of vodka in his hand, praying by reading Bismillah (in the name of Allah) to all guests. The mother of the bride then stood up, saying gratitude to all guests while wailing and weeping, and finished the vodka all at once.
Pernikahan Muslim (Mongolia, 2009)
Seorang pengantin Muslim Kazakh di ujung paling barat Mongolia sedang bersiap melangsungkan akad nikah. Pernikahan di sini lebih sering dilangsungkan dalam cara barat atau Rusia daripada cara tradisional (yang lebih rumit dan mahal). Dalam pernikahan Kazakh di Mongolia, vodka tidak boleh absen. Ayah pengantin perempuan ini bahkan sempat mengangkat secawan vodka, mengucap Bismillah irrahman irrahim, dan berterima kasih kepada semua tamu yang hadir. Disambung dengan ibunya yang berdiri, berterima kasih sampai menangis-nangis, dan menenggak habis satu cawan vodka sekali tegukan.