#1Pic1Day: Peninggalan Jalur Sutra | Remnants of the Silk Road (Kyrgyzstan, 2006)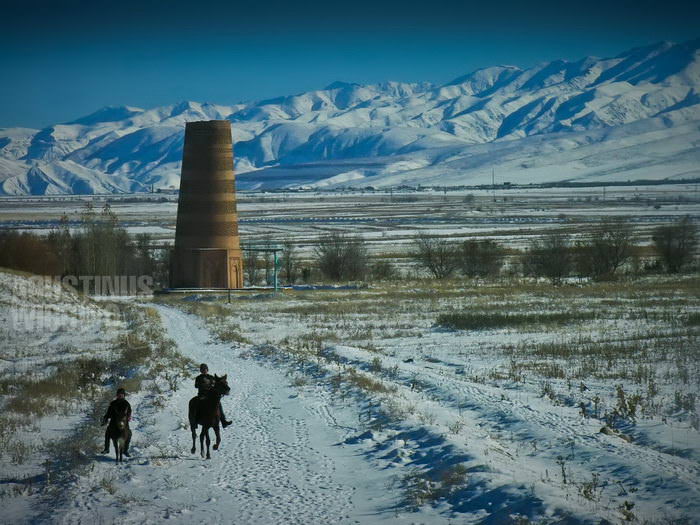 Remnants of the Silk Road (Kyrgyzstan, 2006)
Kyrgyzstan was passed by the Silk Road, the medieval trading routes connecting China and Europe. Unlike its neighbor Uzbekistan, which was blessed by ancient cities and grandeur historical architectural heritages, Kyrgyzstan was the place of nomadic tribes and has not so much of that kind of heritages. One among few the country still has is the Minaret of Burana, remnants from the old city of Balasagun from the 9th century. This minaret was originally 45 meter high, but destroyed by an earthquake, only 25 meter left.
Peninggalan Jalur Sutra (Kirgizstan, 2006)
Kirgizstan juga termasuk daerah perlintasan Jalur Sutra, jalur perdagangan yang menghubungkan China dengan Eropa di Abad Pertengahan. Tidak seperti negara tetangganya, Uzbekistan yang dipenuhi kota-kota dengan bangunan megah peninggalan Jalur Sutra, Kirgizstan yang tempat tinggalnya bangsa nomaden tidak memiliki banyak peninggalan megah dari zaman itu. Salah satu yang masih berdiri hingga hari ini adalah Menara Burana, peninggalan dari kota kuno Balasagun pada abad ke-9. Menara ini semula tingginya 45 meter, tetapi hancur karena gempa dan tersisa hanya 25 meter.