#1Pic1Day: Sayap Patah | Broken Wings (Kyrgyzstan, 2006)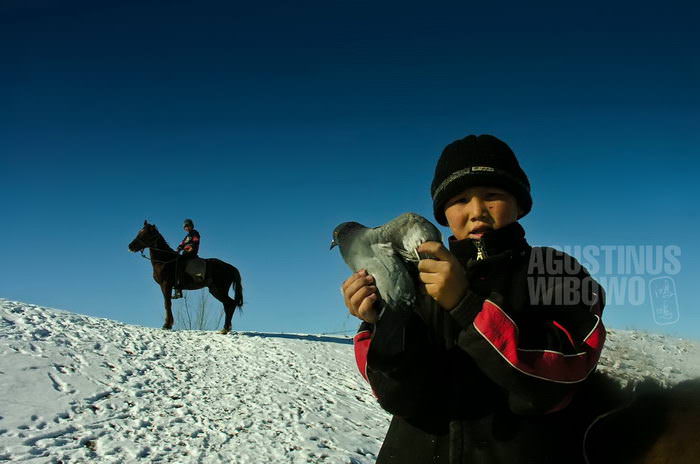 Broken Wings (Kyrgyzstan, 2006)
A Kyrgyzstan boy on a horse is showing a wounded bird he just found on the ground. The ancestors of the Kyrgyz were nomadic people, but most of them are not anymore, or at least semi-nomadic. During the Soviet era, nomadism was regarded backward, so the Russians deliberately moved the nomads to apartment blocks. Some Kyrgyz people still preserve their nomadic culture, staying inside yurts in the steppes during the summer months, then move to their concrete houses in winter. The capability of horse riding, which used to be in their blood, now is also relatively decreasing.
Sayap Patah (Kirgizstan, 2006)
Seorang bocah berkuda di Kirgizstan menunjukkan seekor burung terluka yang ditemukannya. Nenek moyang bangsa Kirgiz adalah bangsa nomaden, tetapi sekarang mereka sudah semi-nomaden, terlebih lagi sejak datangnya orang Rusia yang menganggap nomadisme adalah keterbelakangan, dan memindahkan para penggembala ke blok-blok apartemen. Beberapa orang Kirgiz yang masih melestarikan gaya hidup semi-nomadisme, tinggal di padang rumput pada musim panas, dan kembali ke rumah bangunan di musim dingin. Kemahiran dalam berkuda, yang semula adalah kultur yang mendarah daging, kini juga semakin berkurang.