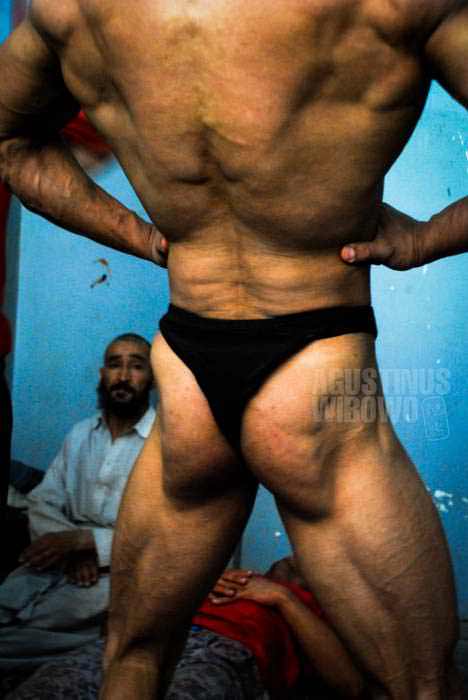 Among the signs of obsession of bodybuilding in Afghanistan, Kabul only has at least 70 gyms (in a city of 3 million population) and there are more than 1,000 gyms across the country, from the capital to warring provinces and isolated hinterlands.
Mister Muscle of AFGHANISTAN [2007, 2008]

Bodybuilding and Afghanistan. For most of us this pair does sound odd. 'Afghanistan and Gun', 'Afghanistan and War', or 'Afghanistan and Bomb' all sound much more familiar and "suitable" to us. Although foreigners might prefer to associate with AK-47, long beards, and Arab gowns, those Afghan young men are now showing up their shiny smooth chest, bulging biceps, and packed stomach. Proudly they come out in body show contest, where hundreds of spectators cheer enthusiastically to support their Greek-god-bodied fellows. In a country where the posters of Tajik warrior Ahmad Shah Massoud and the president Karzai scatter the streets, Arnold Schwarzenegger – the governor of California – is the real king. Amid bombing and kidnapping outside, the prestigious male beauty pageant in male-dominated country is crowning Mister Kabul and Mister Aghanistan on annual basis.
Blog article on this story:
Kabul – Mister Kabul, Mister Muscle from the Afghan Land
For other photography works, please proceed to Photography Album.
All photography materials in agustinuswibowo.com are copyrights of Agustinus Wibowo, unless specially specified. Any unauthorized use or distribution of these copyrighted works is illegal. Agustinus can be contacted here.
[zoomfolio settings_mode="masonry" skin="skin-default" settings_specialgrid="none" settings_posttype="post" settings_lightboxlibrary="zoombox" design_item_width="" design_thumbw="" fullscreen="off" sort_order="ASC" settings_disablecats="on" disable_itemmeta="off" settings_preloadall="off" design_categories_style="normal" design_pageContent_pos="top" settings_specialgrid_chooser_enabled="off" design_categories_pos="top" settings_biggalleryall="off" orderby="date" settings_ajax="on" settings_ajax_loadmoremethod="scroll" posts_per_page="50″ settings_hide_category_all="off" settings_uselinksforcategories="off" settings_uselinksforcategories_enablehistoryapi="off" cats="2449″ bgcolor="transparent" settings_mode_masonry_layout="masonry" design_total_height_full="off" settings_mode_masonry_layout_straightacross_setitemsoncenter="off" design_preloader_bottom="off"]