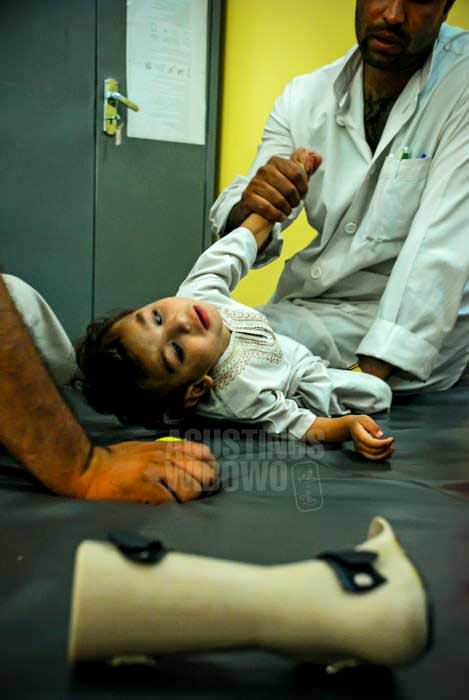 Besides of war causes, many patients in ICRC Orthopedic Hospital also became disabled due to lack of nutrition and responsive medical facility in the country. Cerebral palsy is also common among young children.
In war-torn Afghanistan, bazaars are dominated by armless beggars lying on hot asphalt, pedestrian path by men sitting next to plastic legs waiting for alms or handicapped street children crawling on the ground. Millions of landmines still scatter the country, besides rocket, bomb blast, gun fire, malnutrition, until polio virus, all of which caused a high number of people living with disabilities in Afghanistan. But it's not the end of story. The ICRC hospital in Kabul produce free artificial limbs personally-sized for each of the victim so one may innitiate a new, hopeful life. The  hospital, with most of the staffers and doctors living with disabilities themselves, provides the most approriate care needed by the patients with disabilities. Besides health assistance, the hospital also provides microcredit programs so the beneficiaries can survive integrating to the society and living a normal life.
For other photography works, please proceed to Photography Album.
All photography materials in agustinuswibowo.com are copyrights of Agustinus Wibowo, unless specially specified. Any unauthorized use or distribution of these copyrighted works is illegal. Agustinus can be contacted here.
[zoomfolio settings_mode="masonry" skin="skin-default" settings_specialgrid="none" settings_posttype="post" settings_lightboxlibrary="zoombox" design_item_width="" design_thumbw="" fullscreen="off" sort_order="ASC" settings_disablecats="on" disable_itemmeta="off" settings_preloadall="off" design_categories_style="normal" design_pageContent_pos="top" settings_specialgrid_chooser_enabled="off" design_categories_pos="top" settings_biggalleryall="off" orderby="date" settings_ajax="on" settings_ajax_loadmoremethod="scroll" posts_per_page="50″ settings_hide_category_all="off" settings_uselinksforcategories="off" settings_uselinksforcategories_enablehistoryapi="off" cats="2455″ bgcolor="transparent" settings_mode_masonry_layout="masonry" design_total_height_full="off" settings_mode_masonry_layout_straightacross_setitemsoncenter="off" design_preloader_bottom="off"]