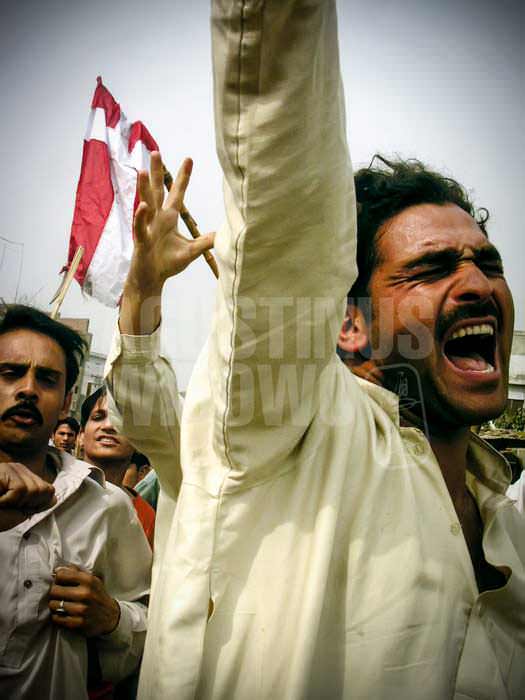 "Death to Denmark. Death to America. Death to Israel!!!" the protesters chant harmoniously.
Peaceful demonstration protesting the Denmark cartoon turns wild and bloody in Lahore, 14 February 2006. Pakistan experienced waves of angry demonstrations nationwide protesting controversial cartoon series of Prophet Muhammad published by Denmark newspaper, Jyllands-Posten, regarded as blasphemous by Muslims. Thousands of protesters rampaged through the city of Lahore, storming and torching Western and local businesses. The mob burned down a hotel, two banks, KFC restaurant, MacDonald restaurant, Pizza Hut restaurant, Suzuki showroom, and the office of a Norwegian cell phone company, Telenor. Rioters also damaged hundreds of cars, dozens of shops, and vandalized public properties. In Lahore, two movie theaters were torched. The city is covered by black smoke from burning vehicles in front of Citibank branch.
Two people are reportedly killed and some others are injured in the unrest.
Related blog posts:
Lahore – Not an Ordinary Valentine's Day (Riots in LAHORE)
For other photography works, please proceed to Photography Album.
All photography materials in agustinuswibowo.com are copyrights of Agustinus Wibowo, unless specially specified. Any unauthorized use or distribution of these copyrighted works is illegal. Agustinus can be contacted here.
[zoomfolio settings_mode="masonry" skin="skin-default" settings_specialgrid="none" settings_posttype="post" settings_lightboxlibrary="zoombox" design_item_width="" design_thumbw="" fullscreen="off" sort_order="ASC" settings_disablecats="on" disable_itemmeta="off" settings_preloadall="off" design_categories_style="normal" design_pageContent_pos="top" settings_specialgrid_chooser_enabled="off" design_categories_pos="top" settings_biggalleryall="off" orderby="date" settings_ajax="on" settings_ajax_loadmoremethod="scroll" posts_per_page="10″ settings_hide_category_all="off" settings_uselinksforcategories="off" settings_uselinksforcategories_enablehistoryapi="off" cats="2458″ bgcolor="transparent" settings_mode_masonry_layout="masonry" design_total_height_full="off" settings_mode_masonry_layout_straightacross_setitemsoncenter="off" design_preloader_bottom="off"]