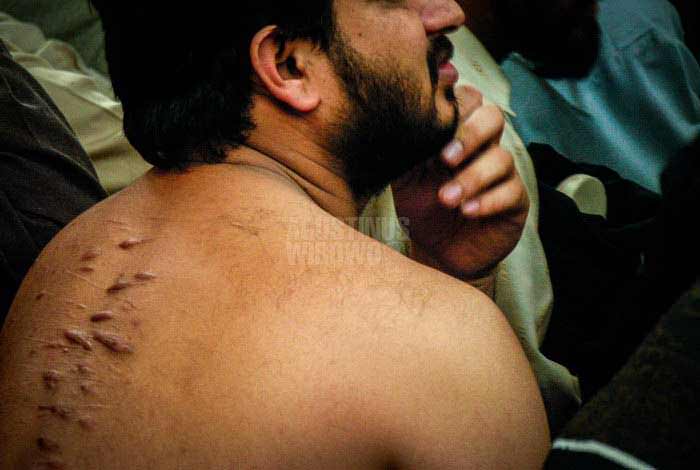 A man bears permanent scars on his back from self-flagellation in Ashura of previous years.
Lahore, Punjab, Pakistan, 9 February 2006 (Ashura)
Ashura, literally the "tenth", refers to the 10th date of the Islamic month of Muharram, is the holiest days in Shia Islam. In this occasion, the Shiites all over the world remember the martyrdom of Imam Hussein ibn Ali, the son of Ali ibn Abi Talib, the grandson of the Prophet Muhammad. The martyrdom took place in the 10 Muharram 61 Hijri calendar (680 CE), when Imam Hussain with only 72 men faced 4000 soldiers of Ummayyad army led by Yazid. Hussein, his family, and all of his soldiers were massacred in the battle of Karbala (in present-day Iraq).
Pakistan has about 20 percent of Shia population, but the day of Ashura and Chehlum (40th day after the Ashura as the end of the mourning period) are observed as national holidays. Both of the remembrance festivals are not exclusively for Shiites, as Pakistani Sunnis also flock to the mosques to listen to majlis (sermons), in which the tragedy and the spirit of Hussain is being recounted to the mass. The honesty of Ali and the martyrdom of Hussain to fight against injustice are the main spirit of the Ashura. The commemoration of Ashura and Chehlum in Pakistan typically includes self-beating and self-flagellation ritual.
Related blog posts:
Lahore – Ya Hussain
Back to Photography Album.
Back to Ya Hussain (2006) Album
All photography materials in agustinuswibowo.com are copyrights of Agustinus Wibowo, unless specially specified. Any unauthorized use or distribution of these copyrighted works is illegal. Agustinus can be contacted here.
[zoomfolio settings_mode="masonry" skin="skin-default" settings_specialgrid="none" settings_posttype="post" settings_lightboxlibrary="zoombox" design_item_width="" design_thumbw="" fullscreen="off" sort_order="ASC" settings_disablecats="on" disable_itemmeta="off" settings_preloadall="off" design_categories_style="normal" design_pageContent_pos="top" settings_specialgrid_chooser_enabled="off" design_categories_pos="top" settings_biggalleryall="off" orderby="date" settings_ajax="on" settings_ajax_loadmoremethod="scroll" posts_per_page="50″ settings_hide_category_all="off" settings_uselinksforcategories="off" settings_uselinksforcategories_enablehistoryapi="off" cats="2462″ bgcolor="transparent" settings_mode_masonry_layout="masonry" design_total_height_full="off" settings_mode_masonry_layout_straightacross_setitemsoncenter="off" design_preloader_bottom="off"]