A War Game in a War Country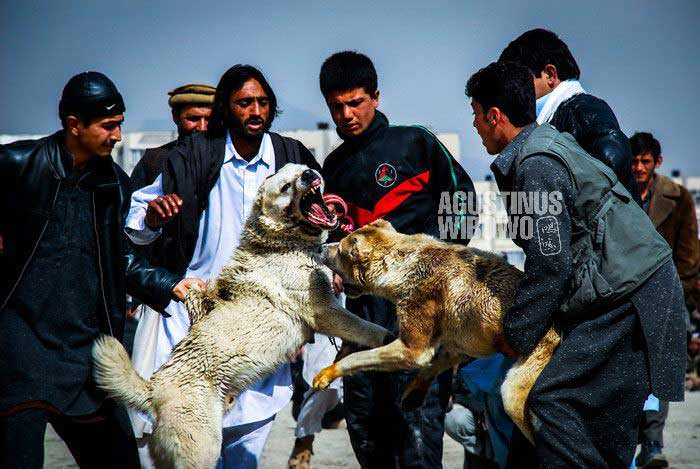 Dog fighting is a free Friday entertainment for thousands of men and boys here, despite of being an illegal activity. Fights are also held at other public venues in some Afghan cities, and at times in private.
Kabul, 7 March 2008
Each Friday morning in cold winter months, thousands of men and boys gather on the outskirt of Kabul. While Friday is the day of prayer and rest for most humans in Afghanistan, it is the worst day for the dogs here; as these man gather for a favorite local pastime: dog fighting. Mastiffs and other large breed mixes can be found on the plain, with teeth barred in preparation of a barbaric entertainment for the local men. Dog fighting was banned under the Taliban, who condemned it as un-Islamic. The tradition makes a comeback after the fall of the regime, although it is still illegal under the current regime. Policemen can be seen around the arena, to guarantee that it's only the dogs  and not any others are fighting here. Winners of the fighting may earn up to US$20,000, but a dog owner told me that it's not haram (forbidden) at all in Islam, as it's not about the money but the pride, and as they don't kill the dogs nor sell the dogs. A fighting dong with a winning record is actually may sell for as much as a new car.
Back to Photography Album.
Back to Dog Fighting in Afghanistan Album
All photography materials in agustinuswibowo.com are copyrights of Agustinus Wibowo, unless specially specified. Any unauthorized use or distribution of these copyrighted works is illegal. Agustinus can be contacted here.
[zoomfolio settings_mode="masonry" skin="skin-default" settings_specialgrid="none" settings_posttype="post" settings_lightboxlibrary="zoombox" design_item_width="" design_thumbw="" fullscreen="off" sort_order="ASC" settings_disablecats="on" disable_itemmeta="off" settings_preloadall="off" design_categories_style="normal" design_pageContent_pos="top" settings_specialgrid_chooser_enabled="off" design_categories_pos="top" settings_biggalleryall="off" orderby="date" settings_ajax="on" settings_ajax_loadmoremethod="scroll" posts_per_page="50″ settings_hide_category_all="off" settings_uselinksforcategories="off" settings_uselinksforcategories_enablehistoryapi="off" cats="2478″ bgcolor="transparent" settings_mode_masonry_layout="masonry" design_total_height_full="off" settings_mode_masonry_layout_straightacross_setitemsoncenter="off" design_preloader_bottom="off"]