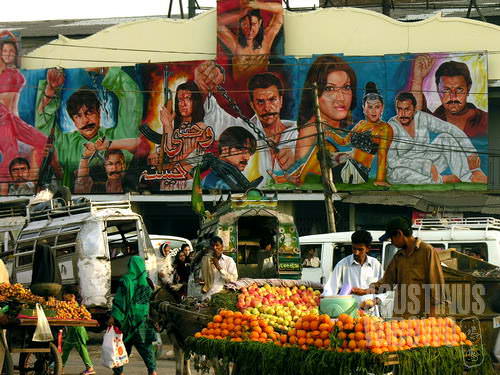 January 13, 2006
Porn night in Pakistan? Yes, the idea was started due to the sudden heavy snow here in Karimabad. Some young guys in my restaurant decided to rent a porn VCD and played in the middle of the night.
It's just a usual thing in Indonesia to watch porn movie together, (read: nonton bokep rame-rame), but it's become a very special thing here, in a traditional village in mountainous area of Pakistan. That is why I was interested to observe what going to happen. Due to obvious reasons, all names included here are not the real names.
Umer, brought his favorite VCD which he got from Aliabad, after more than 100 minutes of journey go and back. He was so excited what we were going to watch tonight. "A guy with two girls, big cock, one girl sucking one girl kissing…" and you could see a slight of horny feeling from his eyes.
Yeah, we couldnt wait for the exciting tonight. Everything was prepared, a secret room, a plan to move the TV and VCD player from the restaurant, a plan to make the old man, the owner, going to sleep earlier, a plan to knock my door when everything prepared, etc. etc. "Dont forget to come here at 10," Farouq said to me.
10 exact, I came back to the restaurant. But it seems that all plans were cancelled. The reason that the old owner decided to rent a high class VCD, a golden movie from the golden ages, the colossal famous and never ending (I am sure at least the movie will run for 4 hours) "Mughal e Azam" (The Kings of Mughals). So the erotic night is replaced by a history class tonight, and all guys were disappointed.
Instead, I went to Farouq's room. Today he drank a little bit, he spoke much a lot than usual, but still normal and logical. From the disappointment, he started to tell me his past, his sexual life, in the surpressed Islamic Republic of Pakistan. The first one was about a girl who wanted to cash her bank cheque, but then found the bank was closed. Then the girl was looking for toilet and ended up in Farouq's room. What a luck, as he said. The girl promised to come back again 3 days later, as she had not any time on that very day. Farouq prepared a lot in these 3 days of waiting, no masturbation and only eating eggs, to collect all of the energy, he explained. And that long awaited day came, …, the detail is not need to be shared here.
The other story, more interesting, was about oral sex. He said that Pakistani girls dont do oral sex. But he has his own experience. He was watching a porn with someone, a guy, of 16 years old at that time. He didnt expect what happen, until the younger guy started to squeeze him, then the oral and anal sex happened. Yes, this is a male to male story. The young boy, he said, was still his good friend and now he was in Karachi but still sent letter regularly.
He was sobby of the cold winter, where there are no foreign girls around the street, no good scenery at all.
By telling his own story, he got horny by himself. And he tried to seduce me.
"Larki nahin hai to larka phi thik hai" ("no girls, so boys are also doable, na?")
But I was there just to gather stories, not for forbidden sex. I changed the topic and successfully flew away…. untouched.
What a porn night experience.