THE JAKARTA POST CREATIVE WRITING WORKSHOP: Travel Writing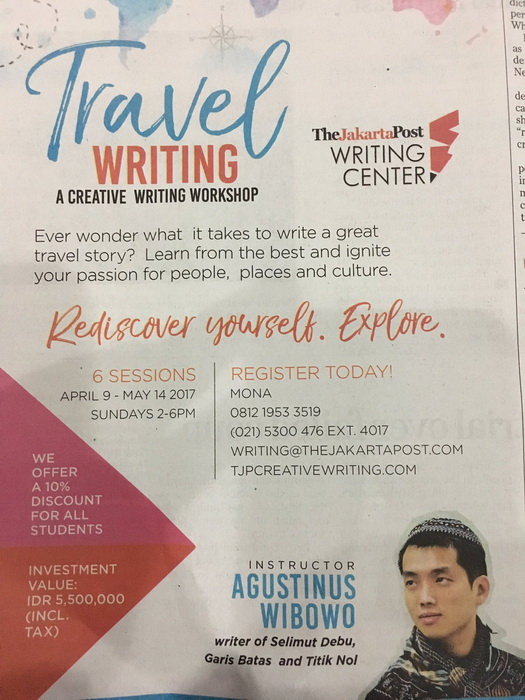 https://tjpcreativewriting.com/2017/03/26/travel-writing/
Instructor: Agustinus Wibowo
We have arrived in an era where virtually everybody can travel. Somehow, the dream of exploring the unfamiliar world, a dream that decades ago seemed impossible, now has become a reality for many people. Being a travel writer is one plausible way to achieve this. It is still one of the best jobs in the world, as it enables one to travel extensively, and get paid for it.
But competition is harsh; to be a distinctive and qualified travel writer is not as easy as it sounds. Moreover, travel writing is a new genre in Indonesia with so much space to learn from the far more mature industry of travel writing out in the West. This course will bring you to diverse aspects of travel writing. We will discuss many representative works from some of the best travel writers and their work. We will also dig into the reality of travel writing as a profession.
This course is perfect for journalists, freelance writers, memoir writers, even fiction writers. Nevertheless, students are not required to have any previous coursework in Creative Writing.
At the end of this course, you will be able to:
develop ideas and direct your research
understand the nonfiction contract and ethics
apply the elements of fiction writing to nonfiction articles
produce a solid travel narrative draft
read travel pieces with a critical perspective
write, revise, edit, and polish your own story
reflect on your writing process and habits
Course Information
Attendance and Assignments
This six-week course (each session is four hours) is intensive with heavy workload of writing and reading. Please be prepared for class. You can't simply "attend" the class; you must participate and engage with your peers. Please complete your assignments and homework on time. Assignments will include:
Reading materials for discussion
Writing exercises, in-class
Writing exercise, homework
Peer reviews
Draft paper, proposal, report, articles
Writers need to read extensively. We will also learn how to read critically, and how to absorb the maximum benefit of what we read. The selected reading materials are diverse and you will be able to explore different styles of travel writing and/or other creative nonfiction writing.
The purpose of this course is to help you produce powerful travel narrative and/or other creative nonfiction pieces. These writing exercises are dedicated for you to assist in progressing your story forward, to dig deeper what you may have not realized yet. Each exercise is carefully selected to enhance your writing capability. Write from the heart, as when you don't, it shows on the paper.
Final Project
At the end of the workshop, you are asked to produce one essay/article that is ready for publication. 
Perks: 10% discount for all university students. Alternative payment plans available. If you are a university student or require a payment plan, leave us a note in the comment area.
Investment value: IDR 5,500,000 (incl. tax)
Sign up here or leave a query here.
Available workshop dates:
‡ April 9 – May 6 2017 (Sundays 2pm – 6pm)