A Blanket of Dust—New Edition
My first book, A Blanket of Dust (Selimut Debu) is going to be republished with new cover and new photos, to be launched by Gramedia Pustaka Utama this coming 29 September 2011.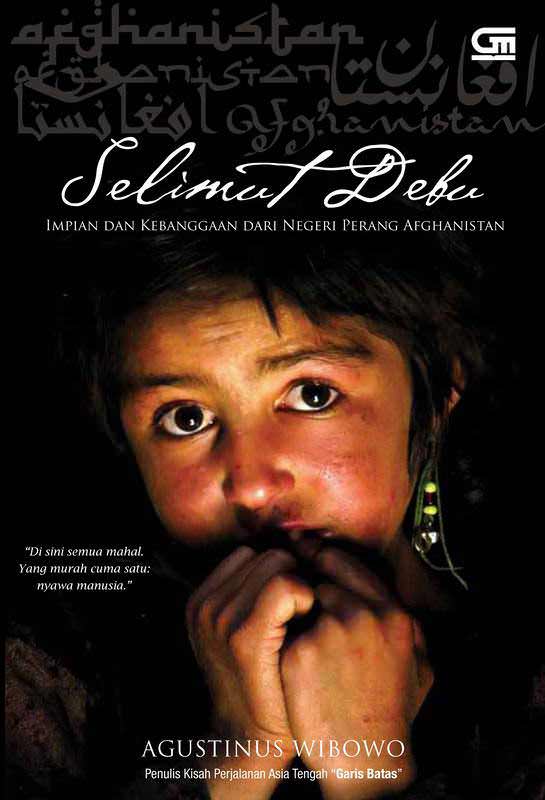 [Agustinus] tak ingin hanya menjadi penonton isi dunia. Ia mau terlibat sepenuhnya dalam perjalanan itu. Ia tak sekadar melihat pemandangan, berpindah dari satu tempat ke tempat lain, tetapi juga mengenal budaya dan berinteraksi dengan masyarakat setempat.
–Kompas–
Afghanistan. Nama negeri itu sudah bersinonim dengan perang tanpa henti, kemiskinan, maut, bom bunuh diri, kehancuran, perempuan tanpa wajah, dan ratapan pilu. Nama yang sudah begitu tidak asing, namun tetap menyimpan misteri yang mencekam.
Pada setiap langkah di negeri ini, debu menyeruak ke rongga mulut, kerongkongan, lubang hidung, kelopak mata. Bulir-bulir debu yang hampa tanpa makna, tetapi menjadi saksi pertumpahan darah bangsa-bangsa, selama ribuan tahun.
Aura petualangan berembus, dari gurun gersang, gunung salju, padang hijau, lembah kelam, langit biru, danau ajaib, hingga ke sungai yang menggelegak hebat. Semangat terpancar dari tatap mata lelaki berjenggot lebat dalam balutan serban, derap kaki kuda yang mengentak, gemercik teh, tawa riang para bocah, impian para pengungsi, peninggalan peradaban, hingga
letupan bedil Kalashnikov.
Agustinus Wibowo menapaki berbagai penjuru negeri perang ini sendirian, untuk menyibak misteri prosesi kehidupan di tanah magis yang berabad-abad ditelantarkan, dijajah, dan dilupakan. Menyibak cadar negeri cantik nan memikat, Afghanistan.